Communication: Digital Media Production
Offered by:
Communication
The Internet has revolutionized the ways that we share information, creating exponential opportunities in digital media. The Digital Media Production program at SRU will help you develop the theoretical, technical, and creative skills for working with different types of media (video, audio, social media, TV, Web, etc.). This major emphasizes new media (Internet), and teaches you how to organize and present online information to encourage interaction. You can choose to specialize in print, electronic, video, or audio media-while still gaining skills in a wide range of media options.
Why Choose Digital Media Production?
Digital media is a growing field with diverse career opportunities. In SRU's Digital Media Production program, you'll learn the foundations of multimedia communication and develop excellent technical and design skills with our project-focused curriculum. Through individual projects, you'll develop strong independent work skills; through group projects, you'll gain valuable management and teamwork skills. You'll have access to three dedicated, state-of-the-art computer labs. You'll also have the opportunity to work on projects for actual clients.
What Will You Learn?
You'll learn to plan and implement media projects-often producing them for real-world clients. You'll learn by using professional-grade software such as:
Adobe Creative Suite CC
Apple software for video and audio
Graphics packages for TV and media
Kyron
You'll also learn the role and responsibilities of the media in our global society.
Careers In Digital Media Production
Through the Digital Media Production program, you'll gain the production, teamwork, and project management skills necessary to obtain entry-level positions with media companies, news agencies, businesses, and non-profit organizations. Our graduates work with television stations across the state.
Clubs & Organizations
Lambda Pi Eta Communication Honorary
Rock PRoductions
The Rocket Student Newspaper
WSRU-TV

Student/Alumni Spotlight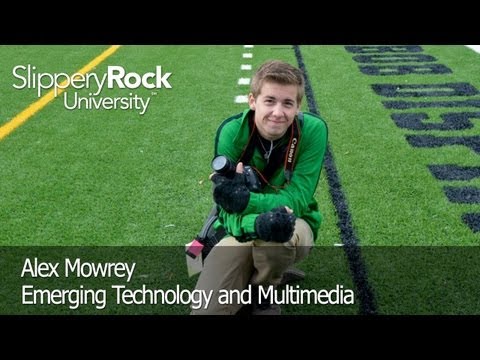 Alex Mowrey is a senior, Digital Media Productions major at Slippery Rock University. He is involved on campus in a number of ways as a photo editor for The Rocket newspaper, a pride guide for the Office of Admissions, and as a Community Assistant. Alex talks about how his advisor and professor, Dr. Pease-Hernandez has helped him stay on the path to success. While at SRU, Alex has been able to travel to the University of Michigan and cover a basketball game alongside professional photographers. He has also won several awards for his work.
Alex Mowrey , Class of 2015