Management
Offered by:
School of Business
Slippery Rock University's Management major provides students with a strong foundation in business through not only courses, but also study abroad and internship opportunities. The program rewards students with a Bachelor of Science in Business Administration degree, which will give you the skills needed to make effective decisions for planning, organizing, and leading a team, office, or company. Being an effective leader means inspiring the people around you and finding ways to move the organization forward, and at SRU you will learn to do just that.
For students with an Associates Degree in Business Administration interested in completing their BSBA major in Management online, visit our Online Learning website for more information.
Why choose the Management major?
If you plan on owning a business, working as a consultant, or holding a leadership role within any organization, the Management program at SRU will prove valuable to you. You'll discover how to make decisions regarding production, personnel, and strategy, and gain insight into growing societal demands, international competition, and the multicultural nature of today's workforce.
What Will You Learn?
You'll learn valuable methods for managing a workforce in today's complex, diverse, and dynamic business environment-preparing you to be a successful future leader.

At Slippery Rock University, business management courses teach crucial decision-making techniques and practical business skills, focusing on areas such as:
Corporate social responsibility
Ethics
Globalization
Human resources
Operations
Organizational behavior
Quality
Careers In Management
Skills you'll develop as a Management major at Slippery Rock University will be relevant and valuable for careers in a wide variety of fields and industries. Our graduates hold positions as:
Entrepreneurs
Human Resource Managers
Managers at all levels of for-profit and non-profit organizations
Production / Operation Managers
Public Administration Professionals
With the help of SRU's School of Business, students also have many opportunities to intern in an actual business environment prior to graduating-giving them the hands-on experience employers look for. Students also participate in business clubs and organizations on campus, including the Society of the Advancement of Management, APICS, and Alpha Kappa Psi.


Earn your Business Management degree at Slippery Rock!
Slippery Rock University's B.S. in Business Administration program with a Management major features an overview of management software, managerial finance, international operations, and many additional subjects. Interested in learning more? Request more information today!
Student/Alumni Spotlight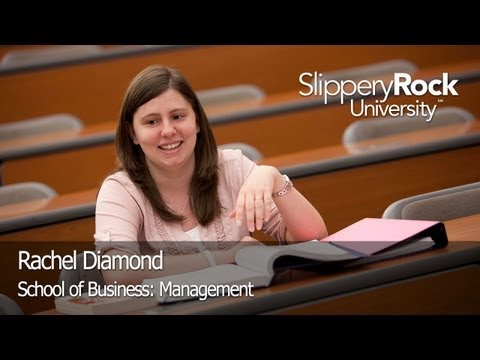 Rachel Diamond, a senior Business Management major with minors in Marketing and Information Systems, talks about how her major has provided her various opportunities to practice what she has learned both inside and outside the classroom. She is involved in the Honor's program, and she discusses about her life-changing, study abroad trip to Ireland. She is proud to say that she has a career lined up after graduation with a prestigious company due to the fact of the education she has acquired at SRU!
Rachel Diamond, Alumna