Pre-Engineering with PSU
Offered by:
Physics and Engineering
Do you have a strong interest in physics and engineering? Start your path to a career in a high-paying, in-demand profession with SRU's Pre-Engineering with PSU program. In cooperation with Penn State University, this dual-degree program gives you the opportunity to receive two degrees: a BA in Physics from SRU, and a BS in Engineering from Penn State.
Why Choose Pre-Engineering With PSU?
Engineering is an in-demand field with a strong job market. Through the Pre-Engineering with PSU program, you'll gain the skills required for an engineering career-along with the competitive advantage of having dual degrees in engineering and physics from two well-known, respected universities.
SRU's Pre-Engineering program also offers:
99% placement rate of graduates into graduate schools, high school teaching, and industry
State-of-the-art facilities and equipment used at all levels
Relaxed and informal environment and extensive face time with faculty
Opportunities for research projects, internships, service learning, and mentoring
What Will You Learn?
During your three years at SRU, you will complete physics, math, and science courses along with pre-engineering electives based on your choice of engineering field:
Agricultural and Biological
Computer
Electrical
Energy
Engineering Science
Geo-Environmental
Material Science and
Mining
After your first three years at SRU, you'll continue to Penn State to complete your engineering coursework taught by skilled professional faculty.
Careers In Engineering
SRU's Pre-Engineering with PSU dual-degree program will prepare you for a career in engineering-one of the highest-paying, fastest-growing fields in the country. Engineering jobs are expected to grow by more than 10% in the next 10 years, according to the Bureau of Labor Statistics. This program will also provide you with an excellent foundation to enter graduate programs in engineering.
Clubs & Organizations
Physics Club
Sigma-Pi-Sigma: The Physics Honor Society
Student/Alumni Spotlight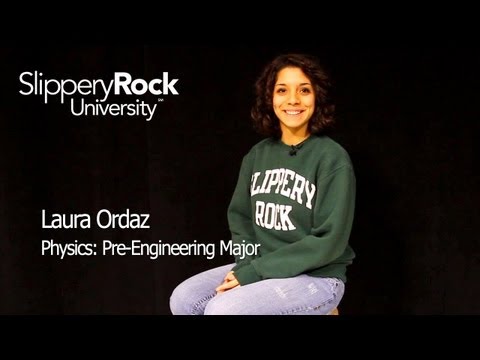 Laura Ordaz a Sophomore, Pre-Engineering/Physics major, talks about the many opportunities for students to get involved on campus through Compass Leadership and many other organizations. She also talks about how these experiences help students figure out who they really are and what they want to do with their lives.
Laura Ordaz