Safety Management
Offered by:
Safety Management
Slippery Rock University's Bachelor's in Safety Management degree is the perfect major for students looking for a practical, hands-on education. Safety professionals design, implement, and maintain programs that improve safety and health in a variety of enterprises. If you enjoy interacting with people and want to make a difference in managing the safety of employees in the workplace, this may be the program for you!
Why Choose Safety Management?
The faculty in the Safety Management Department bring each course to life by combining their real-world experiences with their passion for teaching. The goal of the curriculum is to prepare and develop reliable, hardworking, and creative safety professionals. With an exceptional post-graduation employment rate, the Safety Management program at SRU will prepare you to excel in your career with a competitive edge.

Additionally, the Bachelor of Science Degree in Safety Management at SRU meets the Board of Certified Safety Professionals (BCSP) requirements as a Qualified Academic Program (QAP). The Safety Management Major at SRU is also an Institute for Safety and Health Management (ISHM) Board-approved degree program.
What Will You Learn?
Safety Management majors will understand the regulations and standards of workplace conditions that impact employee well-being, as well as health and physical hazards, hazardous materials and waste, workplace design adversities, workplace security, fleet safety, fire abatement, emergency preparedness, workplace training, incident investigation, cost containment, occupational safety, and safety management integration.
Careers and Internships
Safety Management students complete a 12-credit internship before graduating. This gives them the hands-on experience needed to successfully start their careers as safety management professionals. Students can also join groups on campus like the American Society of Safety Engineers and attend meetings, workshops, and seminars that will further prepare them for positions such as:
Loss Control Manager (Insurance)
Risk Manager
Safety Administrator
Safety Consultant
Safety Director
Safety Engineer
Safety Specialist
Safety Manager
Fire Safety Manager
Compliance Officer
Safety Coordinator
Safety Inspector
Security Manager
Most entry-level safety management positions range in salary from $50,000-$75,000.


Learn more about the Safety Management major now!
Slippery Rock University's Bachelor's in Safety Management program meets high industry standards and prepares students for careers as responsible, knowledgeable, and accountable safety professionals. Interested in learning more about the major? Request more information today!
Alumni Spotlight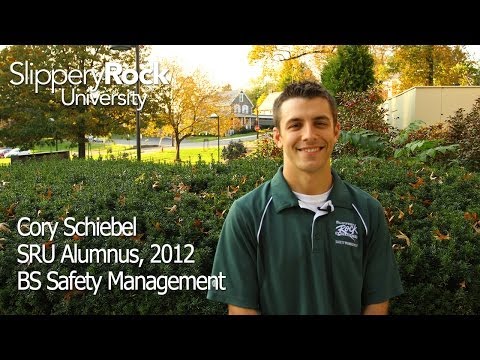 Cory Schiebel graduated from Slippery Rock University in 2012 with a Bachelor of Science Degree in Safety Management. Currently employed as a Safety Manager at the Albert M. Higley construction company in Cleveland, Ohio, he talks about how the curriculum from SRU has helped him stand out from the crowd and how his professors helped prepare him for life after graduation. Cory is very satisfied with his career choice and enjoys being able to make a difference in the lives of others.
Cory Schiebel, Class of 2012