Sustainable Management (Minor)
Offered by:
Marketing and Management
It's all about balance. Profitable businesses are necessary in order to keep the economy going, but if businesses do not keep an eye on the people and planet they affect, they will not have the materials or customers to be profitable for long. If your idealism is matched by realism, and you want to make a difference, the Sustainable Management program at SRU is for you.
SRU offers a minor in Sustainable Management.
Why Choose Sustainable Management?
The 3BL (triple bottom line) approach to sustainability is at the core of the Sustainable Management program at SRU. A business's success is measured not just by its financial statements, but also by how it impacts people and the planet. You will learn that a stakeholder takes a long-run view of value creation and strategic planning, and can keep the balance between profit, people, and planet going.
What Will You Learn?
A combination curriculum of science and business management will prepare you to be a leader who recognizes that business decisions have implications for the environment and humanity.
Careers In Sustainable Management
The tide is truly turning. Not only is caring for our planet understood as the responsible thing to do, it's also the smart thing to do. Your 3BL approach is valuable in nearly any leadership position in large or small organizations, public or private sectors.
Clubs & Organizations
Alpha Kappa Psi
Society for the Advancement of Management (SAM)
Students for Sustainability Club
Student/Alumni Spotlight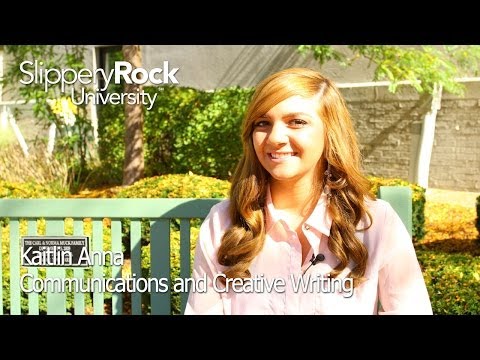 Kaitlin Anna is a senior at Slippery Rock University majoring in Communications and Creative Writing. She talks about her internship experience with the Sustainable Enterprise Accelerator (SEA), where she was able to work with other students in self-managed teams while promoting sustainability and sustainable business practices. Kaitlin enjoyed the opportunity to apply the course content from both of her majors to a real world setting as well as being able to work with other students from a variety of majors. She was also asked to continue working on a project with a client after her experience with the SEA.
Katilin Anna