Mathematics
Offered by:
Mathematics and Statistics
SRU's Mathematics program will provide you with a strong math core-from calculus to abstract algebra-while also enabling you to tailor your education to your interests and career goals. In the Mathematics program, you'll enjoy a strong sense of community through student clubs, activities, and dynamic study spaces. You'll also have opportunities to work closely with our dedicated faculty, who are committed to excellence in teaching and excited to get to know you as an individual.
Why Choose Mathematics?
Mathematics is much more than just number crunching. A degree in math shows that you have the ability to think critically, and conveys an intellectual maturity sought by many employers. It demonstrates that you've learned how to solve complex problems, indicates flexibility and creativity in reasoning, and says you are capable of handling abstractions.
What Will You Learn?
Through your core coursework in the SRU Mathematics program, you will study calculus, discrete math, proofs sequence, linear algebra, differential equations, statistics, abstract algebra, real analysis, and more.
Earning a degree in math helps you strengthen all aspects of critical thinking. You'll learn to:
Reason more clearly, maturely, and flexibly
Recognize and take advantage of patterns and relationships
Choose and apply different intellectual perspectives and technological tools
Be tenacious, energetic, and creative in solving tough problems
Communicate results clearly and precisely
Appreciate the many connections math has with the world around us
Careers In Mathematics
Graduates of the SRU Mathematics program move on to advanced study and careers in many areas, some that might seem far-removed from mathematics, including:
Actuarial Science
Biology
Chemistry
Computer Science
Economics
Education
Environmental Geoscience
Finance
Graduate School
Philosophy
Physics
Pre-MBA
Psychology
Public Health
Statistics
Clubs & Organizations
Actuarial Club
Math Club
Pre-Service Teachers of Mathematics Club
Student/Alumni Spotlight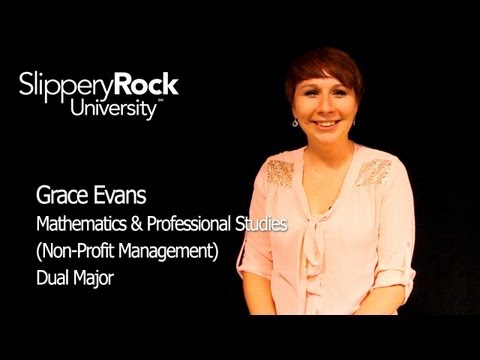 Grace Evans, a Senior Dual Major in Mathematics and Professional Studies, talks about why SRU was her first choice. Grace also talks about getting involved with many organizations on campus and how her involvement in the Green and White Society and volunteer opportunities have prepared her for a future in her field. Because of her experiences, she has learned how to act professionally outside of her comfort zone. She has traveled to Jamaica with SRU's Care Breaks. Before she came to SRU, she didn't know what she wanted to do, but after four years, she now has a clear idea of who she will become.
Grace Evans, Alumna