Sport Management
Offered by:
Sport Management
SRU's award-winning Sport Management program is one of the oldest and most well known in the country. Our challenging curriculum will prepare you for a career in sport event management, intercollegiate athletic departments, minor league sport, sport marketing, sport facility management and other areas of the expanding sport business and entertainment industries. A 12-credit internship is required in a sport-related agency during the last semester of the program. A minor in business is a very valuable compliment to this major.
Why Choose Sport Management?
As the first accredited program of its kind in the nation, SRU will provide you with professional opportunities that will build the knowledge and skills required of Sport Management professionals. We boast a strong alumni base, offering connections that will help you land a career-advancing internship. SRU faculty are industry professionals, and will provide you with valuable experience-based advice in addition to your classroom education. With an emphasis in experiential learning, you will have ample opportunity to put your education into practice before graduation.
What Will You Learn?
You will learn the business side of sport: everything that goes into planning, promoting, financing, sponsoring, marketing, communicating, and operating sport events and organizations. Skills you will acquire include:
Budgeting and finance
Diversity and management
Management ethics
Sales and fundraising
Sport communication and technology
Sport law
Sport marketing
Careers In Sport Management
Sport management careers can take you to a variety of fields including:
accounting
communications
community relations
economics
finance
management
marketing
Further, sport-related knowledge is a unique asset to not only the sports industry but to other business areas as well.
Clubs & Organizations
Student/Alumni Spotlight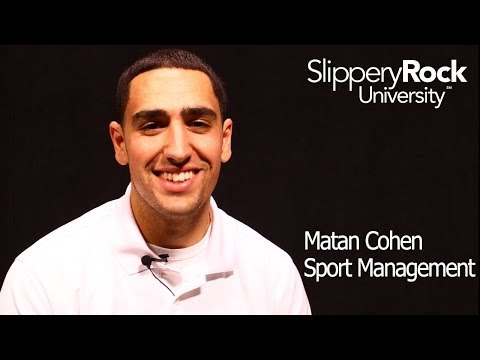 Matan Cohen is a senior, Sport Management major at Slippery Rock University. He talks about what he loves about his major, including the opportunity to attend conferences all over the country. Matan is involved in bringing concerts and comedians to campus through University Program Board, and most recently, he organized performances by "All Time Low" and comedian Erik Griffin from the television show, "Workaholics." Slippery Rock University has given Matan the opportunity to lead others, which has helped him grow personally and professionally. After leaving SRU, Matan's ultimate career goal is to become President of a National Basketball Association team.
Matan Cohen