Minor in Gender Studies
Offered by:
Nonprofit Management, Empowerment and Diversity Studies
What might Disney movies teach us about gender? What about the NFL? Do you believe that sexual identity and desire are choices, or not? How might gender intersect with race, class, religion, disability, age, sexual identities, geography, and ethnicity to change the way we experience privilege, power, or marginalization?
These are just some the questions you will explore in the Gender Studies program at Slippery Rock University. Through critical analysis and opportunities for advocacy and activism, this minor will help you to better understand your own life while preparing you for a career in a diverse world.
Why Choose Gender Studies?
As a Gender Studies minor, you will understand the larger social systems in which we live and work. Gender Studies courses explore how diversity is expressed and experienced within a cultural framework of politics, history, religion, and economics. As you address questions surrounding gender within this interdisciplinary context, you will develop values and critical thinking skills essential in your career and life.
As a Gender Studies minor, you will experience real-world applications of theoretical perspectives. You will gain an understanding of and sensitivity towards sexual harassment, racism, and discrimination against people with disabilities. You will explore important gender issues, such as equal pay, parental leave laws, and the diminishment of heterosexism and transphobia.
A minor in Gender Studies complements many degree programs, including business, law, music therapy, counseling, professional studies, social work, education, communication, political science, English, history, and philosophy.
Each semester, the Gender Studies Program hosts programs, presentations, and workshops that focus on both national and international issues and investigate gender within larger cultural landscapes. These programs are open to all SRU students and are often the springboard from which students are inspired to conduct undergraduate research or declare a Gender Studies minor.
What Will You Learn?
Through the minor in Gender Studies, you will rethink your own experiences of gender and sexuality, interrogate accepted beliefs about masculinity, femininity, sex / sexualities, embodiment, and explore transnational issues affecting gender today.
As a Gender Studies minor, you will:
Develop an awareness of and an ability to address sensitive issues with respect for diverse perspectives, values, and backgrounds.
Gain an understanding of how power structures are created, maintained and challenged within cultural, economic, historical, and political contexts.
Learn to think critically about and gained an appreciation of the culturally specific experiences of sex, gender, race, and other identity categories.
Apply what you've learned to social, professional, and community environments.
Participate in internships where you implement what you've learned, acquired practical experience in the workforce, and created professional networks.
Careers In Gender Studies
A minor in Gender Studies enhances career preparedness in a variety of fields, including:
Non-profits (for instance, Women's Shelters, Boys to Men Foundation, NAACP, Human Rights Campaign, YMCA, Planned Parenthood, OUT for Work, Women's and Girls Foundation, Stop Human Trafficking, or Big Brothers/Big Sisters, among others)
Business
Counseling
Education/Teaching
Law
Market Research
Music Therapy
Public Relations and Communication
Social Work
A minor in Gender Studies can also prepare you for study in graduate degree programs, including:
Gender and Sexuality Studies
Business
Counseling
English
History
Music Therapy
Political Science
Social Work
Clubs & Organizations
Amnesty International
FMLA (Feminist Leadership Majority Alliance)
RockOUT (SRU's LGBTQ+ student organization)
Student/Alumni Spotlight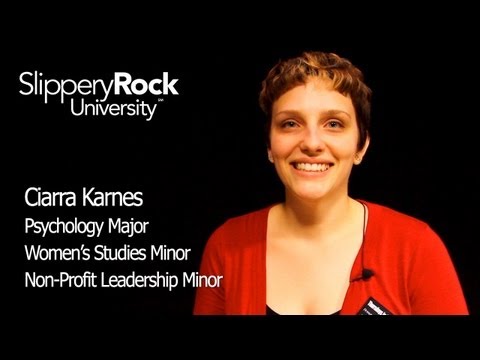 Senior Psychology Major and Women's Studies & Non-Profit Leadership Dual Minor, Ciarra Karnes talk about her experience as a first generation student. She describes the experience she had coming to SRU, facing the adversity of being homeless for a time period during her senior year of high school. She was awarded the Horatio Alger scholarship and the time when she met Denzel Washington. She also discusses her experience at the Harrisburg Internship Semester and how she is looking forward to entering a graduate program for Psychology after graduation.
Ciarra Karnes