Health Care Administration and Management
Offered by:
Health Care Administration and Management
The health care industry is growing exponentially. As medical advances allow us to live longer and more Americans have insurance than ever before, our health care system needs highly-qualified, innovative, and enthusiastic health care administrators to manage rising demands. The HCAM major at SRU offers five concentrations for non-clinical students, plus pre-professional options.
Concentrations
Financial Management
Information Systems
Leadership
Legal Environment
Long-term Care
Marketing and Sales
Medical Device Sales
Quality and Risk Management
HCAM also has an Online Degree Completion option for busy adults who have completed some coursework and want to finish their bachelor's degree.
Regardless of your concentration, with a degree in HCAM from SRU, you will be ready to be a leader in this fast-growing industry.

Why Choose Health Care Administration and Management?
Variety: There are two paths you can take with an HCAM degree.
Path 1: If you are interested in administration or management in America's largest and fastest growing industry, but do not want to seek a clinical career.
Path 2: If you are interested in preparing to pursue a professional program in physical therapy, occupational therapy or physician assistant.
Opportunity: The U.S. population is aging and the number of Americans with access to health care is expanding. These trends create a greater need for health care industry professionals. Health care administrators and managers work with doctors, nurses and other health service professionals to enable the health care system to run smoothly and efficiently.


Versatility: You will have a variety of opportunities in this growing and rapidly changing industry. You will also develop important business knowledge, skills, and abilities that transcend the health care industry.


Advancement: HCAM prepares all students to ascend a career ladder within the healthcare industry. In addition, HCAM is ideal if you currently work in the health care industry and wish to pursue career advancement or a leadership role.


Network: We have developed a robust network of health care industry leaders who engage with our programs and students to maximize "real-life" experiential learning and career pathways. We also have engaged alumni who support our students.
What Will You Learn?
As an HCAM major at SRU, you will gain a comprehensive education in health care delivery and insurance systems. You will learn leadership skills, health care ethics, legal and regulatory environments, healthcare informatics and technology, economic principles behind policy, and the foundations of health services research.

HCAM majors enjoy industry experienced faculty and guest speakers from the health care industry for greater insights to their future careers and to learn current trends in one of the fastest changing industries. Students also have the opportunity to travel abroad in their course of study to gain a greater understanding of various international health care systems. Prior trips include Italy and Ireland medical facility visits as well as cultural immersion.

As an HCAM major, you will be prepared to enter the workforce as a highly desirable candidate.
The seven core values of HCAM include the following:
Engagement in personal and professional endeavors
Life-long learning
Passion for innovation and continuous quality improvement
Professional, competent, accountable, and ethical behaviors
Teamwork, collaboration and a systems approach to continuous quality improvement
Servant leadership
Student-centered experiential learning
Careers In Health Care Administration and Management (HCAM)
A Health Care Administration and Management (HCAM) degree will prepare you for a variety of rewarding positions in the health care industry. The health care industry is a great choice if you want a productive career that makes a positive impact on others. Health care is our nation's largest industry with many career opportunities. Whether you are looking for a clinical or non-clinical role, SRU's Health Care Administration and Management program has a career path for you. Jobs in healthcare administration and management are found in many different settings:
Hospital Systems
Health care and insurance service providers
Managed Care industry
Health care technology firms
Medical sales
Insurance industry
Durable Medical Equipment companies
Rehabilitation and Specialty Hospitals
Group practices
Nursing and personal care homes
Skilled nursing facilities
Pharmaceutical firms
Government agencies
And more...
Clubs & Organizations
Future Healthcare Leaders
Alpha Kappa Psi
American Marketing Association
Society for the Advancement of Management (SAM)
Finance and Economics Club
Student Spotlight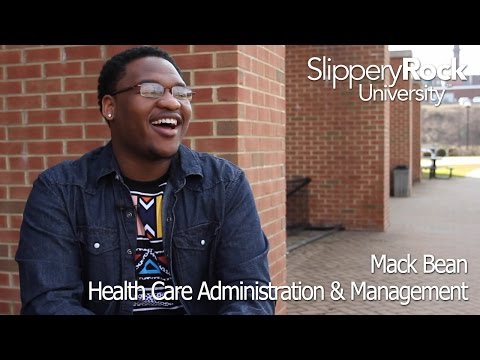 Mack Bean's dream job is to oversee a hospital facility, and he talks about how his major is preparing him for the workforce. Mack discusses how his mentors on campus, Dr. David Jordan, Dr. Pease-Hernandez, Ms. Corinne Gibson, and Mr. Michael White have impacted his SRU experience. Mack is involved in a number of organizations on campus, including JumpStart, the Men of Distinction, and Future Healthcare Leaders of America. While at SRU, Mack has also been able to study abroad at the University of Costa Rica. He talks about how SRU has helped him grow into the person he is today.