Biology
Offered by:
Biology
Slippery Rock University's Biology program is perfect for those with a passion for nature, research, and learning about different life systems. With both Bachelor of Arts and Bachelor of Sciences degrees in Biology available, as well as a minor, you can pursue a path that best fits your interests. At SRU, you'll learn about life systems in the classroom, field, and laboratory (our facilities include a freshwater aquarium room and a greenhouse). You'll also develop important analytical and critical thinking skills and gain vital research and collaboration experience.
Why Choose Biology?
If the structure and development of life and evolutionary processes excites you, then so will a major in Biology. When you study Biology at Slippery Rock, many doors are opened. For example, SRU offers several Biology degrees-plus options with affiliated schools, facilitating a smooth transition to graduate degrees. These include:
Chiropractic at Logan University and Palmer College of Chiropractic
Dentistry at the LECOM School of Dental Medicine (Bradenton, FL campus)
Osteopathic Medicine at Lake Erie College of Osteopathic Medicine (LECOM)
Pharmacy at the LECOM School of Pharmacy
Physical Therapy at SRU
Physician Assistant Studies at SRU
There are many opportunities for Biology students to get involved with clubs and organizations as well. Slippery Rock is home to a chapter of the National Biology Honorary, Beta Beta Beta. There are many other clubs to join on-campus too, such as the Pre-Med Club, Pre-PA Club, and Pre-Veterinary Club (PALS).
What Will You Learn?
You'll receive training in both basic and advanced biological concepts. Through class discussions, laboratory experiments, and fieldwork, you'll learn about different areas of biology such as:
Animal and plant physiology
Botany
Cellular biology
Ecology
Genetics
Microbiology
Molecular biology
Vertebrate and plant anatomy
Zoology
Internships and Careers in Biology
In the past, SRU students have interned at places such as Penn State University, The Pittsburgh Zoo, and the Woodford Veterinary Clinic, among many others. Graduates of SRU's Biology program go on to a diverse range of careers, holding titles such as:
Biochemist
Biological Technician
Chiropractor
Dentist
Genetic Counselor
Health Communications Specialist
Health Educator
Medical and Health Services Manager
Pharmaceutical / Medical Product Sales Rep
Physician's Assistant
Nurse Practitioner
Join us at SRU!
Slippery Rock University's Biology program gives students hands-on experience, internship opportunities, and a seamless path to graduate school. Interested in learning more about the program? Request more information today!
Student/Alumni Spotlight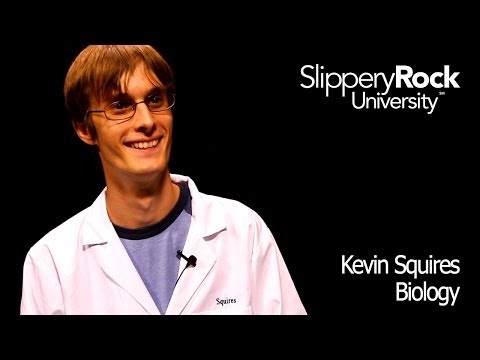 Kevin Squires was a biology major at Slippery Rock University. He was actively involved around the campus at SRU. Kevin was involved in organizations such as the Slippery Rock Orchestra and Beta Beta Beta. In addition, he was an orientation ambassador, assistant editor of the Rocket, a pride guide, and he was also one of the founding members of the Harry Potter club. Kevin was doing biology research with one of his professors, Dr. Hrizo. In this video, Kevin talks about how his professors inspired him to follow his dreams and pursue his passions.
Kevin Squires