Early Childhood Education (PK-4) and Special Education (PK-12)
Offered by:
Special Education
Slippery Rock University's Bachelor of Science in Education program, with a focus on Early Childhood and Special Education, prepares you to work with a wide range of students. SRU has authorization from the Pennsylvania Department of Education to provide certification courses and practical experiences designed to meet the requirements for the Cognitive, Behavioral, and Physical Disabilities (CBPD) certificate in special education. This teaching certificate enables you to teach children identified as having learning disabilities, physical disabilities, or behavioral disorders.
Why Major in Early Childhood and Special Education?
SRU's program provides students with an in-demand, specialized skill set. Students receive certificates in both Early Childhood and Special Education, which enables them to teach children in grades PreK-4 and those with learning, physical, and behavioral disabilities in grades PK-12. If you have a passion for working with children and helping others, you'll find this program rewarding.
What Will You Learn?
At SRU, we value experiential learning. We believe that you need the chance to apply what you've learned in the classroom to real life. Early Childhood Special Education majors benefit from 6 semesters of hands-on field experiences with students in public schools in Western Pennsylvania. Students graduate with proficiency in the theory and practice of early childhood and special education. You will gain a solid foundation in:
Understanding typical child development
Integrating creative expression through arts
Educating students with high and low incidence disabilities
Educating students with developmental disabilities
Applying developmental assessment skills
Teaching mathematics and literacy
Careers, Clubs, and Internships
Students in the College of Education at Slippery Rock University often intern with local businesses such as youth development centers and the Department of Aging. They also volunteer with organizations such as Autism Speaks, Best Buddies, and Council for Exceptional Children (CEC). After graduating, our students mainly go on to pursue teaching careers.
Learn more about our Early Childhood Special Education program!
Slippery Rock University's Bachelor's in Education - Early Childhood Special Education program prepares graduates to teach a diverse range of young students. Interested in learning more? Request more information today!
Student/Alumni Spotlight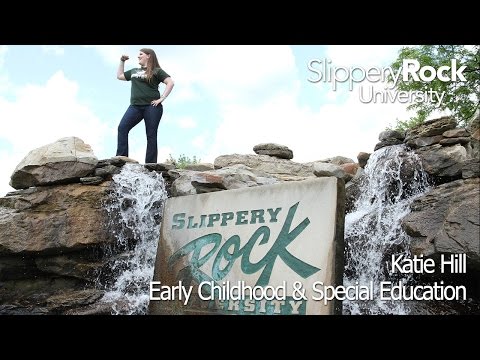 Katie Hill was an Early Childhood and Special Education major at Slippery Rock University. She looked at a wide variety of colleges before finding that the size and caring community of SRU was a perfect fit for her. She has been able to complete numerous field experiences that support her academic coursework in a variety of settings. She has had the opportunity to create and execute lesson plans at a Head Start program in Pittsburgh and has worked with children with learning disabilities. Katie's experience at SRU has exceeded all of her expectations; she has been able to participate in research, make lifelong friends, and experience personal and professional growth. She is an SRU Success Story because of her passion and love for Slippery Rock University and her ambition to make the most of every opportunity available to her both in and outside of the classroom. Katie urges prospective students to come to The Rock ready to embrace the endless opportunities that SRU has to offer.