Early Childhood Education
Offered by:
Elementary Education / Early Childhood Department
Are you ready to inspire the next generation of students? Do you want to be a great teacher of younger students? If you have a passion for helping children to learn and develop new skills, then the Early Childhood Education (PK-4) program at SRU will be the perfect fit for you. Our program has a long history of graduating exceptional teachers. With a curriculum that balances classroom learning with firsthand experiences, we'll help you develop the knowledge, skills, and disposition you'll need to educate and inspire the next generation.
Why Choose Early Childhood PK-4?
Teaching is more than a job; it's a calling. If you've gotten the call, you need a nurturing environment where you can grow your skills through mentoring and experiential learning opportunities. The SRU Early Childhood Education program prepares top teachers by providing a sequence of valuable learning experiences-from observing children in various educational settings to leading classrooms as a student teacher. Look no further than the SRU's Early Childhood alumni educating our children nationwide are a testimony to our reputation as teacher educators. We hope you will be one of them too!
What Will You Learn?
The Early Childhood Education major will prepare you to teach children in pre-K through fourth grade. You will learn about:
Implementing curriculum and instruction
Making data-driven decisions through assessment
Designing a developmentally appropriate classroom environment
Building relationships with families and communities
Understanding developmental theories and child development
Exuding professionalism, including ethical decision-making
Careers In Early Childhood PK-4
Graduates of the Early Childhood Education program frequently find rewarding careers as:
Classroom teachers
Child care professionals
Corporate professional development specialists
Peer educators
Advocates
Educational leadership roles within state and federal government
Sales representatives for publishing companies
Clubs & Organizations
Early Childhood Club
Kappa Delta Pi
S-PSEA
Student/Alumni Spotlight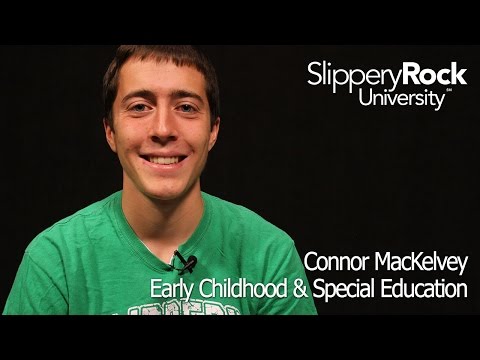 Connor MacKelvey is a junior, transfer student majoring in Early Childhood and Special Education at Slippery Rock University. His transition to SRU was effortless due to the credentials of the transfer counselors who assisted him. While at SRU, Connor has been able to build personal relationships with his professors, helping him to achieve academic success. He loves the community atmosphere on campus, as well as the opportunity to get involved and develop leadership skills. As a transfer student, Connor feels as though there was no transition for him at all; it seems like he has been attending SRU since his freshman year.
-Connor MacKelvey