English: Creative Writing
Offered by:
Languages, Literatures, Cultures, and Writing
Slippery Rock University's Creative Writing major provides students with a complete and in-depth education in many different genres. Our program gives you the opportunity to try your hand at poetry, fiction, creative non-fiction, and more. If you have a passion for the written word, SRU's creative writing major is for you.
Why major in Creative Writing?
Creative writing majors graduate from SRU with a variety of skills including cross-genre writing, critical reading, and a mastery of grammar and linguistics. Our program opens the gates to infinite career opportunities and also helps you think about the world differently. Not only will you become a better writer, but you'll also shape your humanistic principles.
The knowledge you take away from the Creative Writing program will provide you with a competitive edge on the job market and will open the door to professional schools or graduate.
What Will You Learn?
Students pursuing their Bachelor's in English Writing-Creative Writing Specialization degree at SRU listen to and learn from the words of their fellow writers and gain valuable feedback from their professors. They experiment with different techniques and genres and delve into the intricacies of the human experience. Most importantly, creative writing majors and minors learn to tap into their well of creativity and pour its contents out onto the page.
SRU has a variety of clubs that will interest creative writing students. SLAB is an award-winning, student-run literary magazine which features work from both students and writers from around the world. The Roxy is another student-run magazine which features students' writing on film. Other clubs of interest include Slam Poets Club and RockScissorsPaper.
Careers for Creative Writing Majors
Slippery Rock graduates go on to pursue a diverse array of career paths. While some Creative Writing majors become novelists, poets, and journalists, most pursue careers in areas like editing, publishing, non-profit and arts organizations, advertising, law, government, business, higher education, and teaching.
Recent research reveals that many medical and law schools show preference toward English majors and minors who complement their studies with pre-med and pre-law preparation. Corporations are also known to seek English majors for starting managerial positions.
Learn more about our Creative Writing major!
Slippery Rock University's Creative Writing program teaches students everything from literary theory and ethics to how to write for a variety of audiences. Interested in learning more? Request more information today!
Alumni Spotlight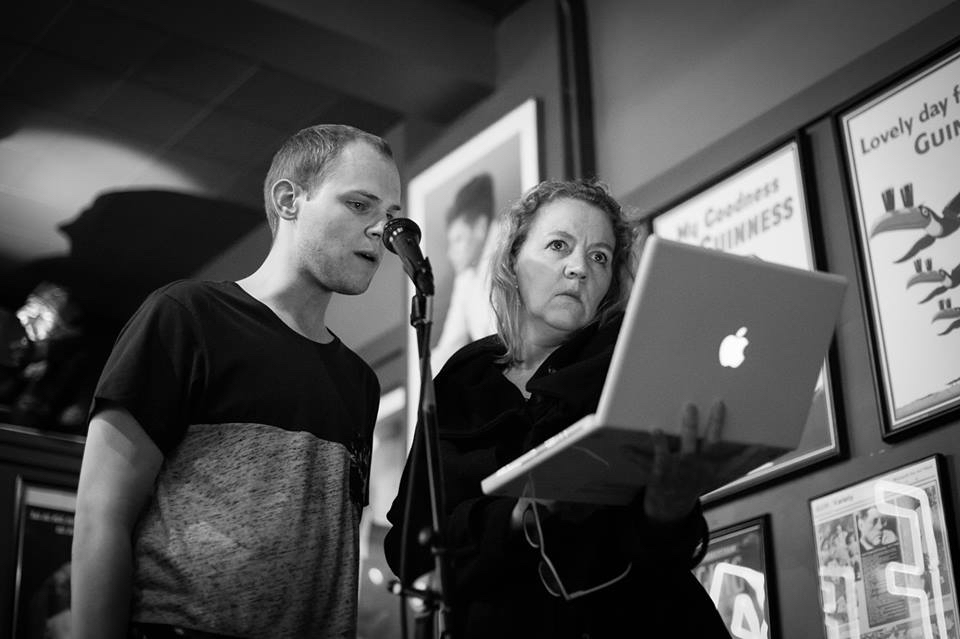 Paul Cunningham earned an MFA in Creative Writing at the University of Notre Dame where he studied hybrid forms of poetry and learned to translate Swedish. He worked as an editorial assistant for Action Books, and edited Raúl Zurita's The Country of Planks (2015) and Hiromi Itō's Wild Grass on the Riverbank (2015). He has read poetry and fiction submissions for the Notre Dame Review, continues to manage Radioactive Moat Press, and edit Deluge, an online literary magazine. In 2012, while earning his B.S. in Creative Writing from SRU, he served as co-editor of Slippery Rock University's sixth issue of SLAB, which was awarded the AWP National Director's Prize for Undergraduate Literary Magazines in the Category of Content. As a board member of co•im•press, he is responsible for creating book trailers for various authors including Gina Abelkop and Sade Murphy. He is a contributing editor to The Fanzine, a literary arts magazine co-managed by Casey McKinney and author Blake Butler. He had an opportunity to study the texts of Judith Butler and Virginia Woolf with Dame Gillian Beer at the Rebellion-themed Synapsis European School for Comparative Studies in Siena, Italy. He has presented his work at several conferences, and his writing has appeared or is forthcoming in Bat City Review, LIT: The Journal of the New School, Tarpaulin Sky, DIAGRAM, Luna Luna Magazine, H_NGM_N, and others. Paul is currently studying on fellowship in the doctoral program at the University of Georgia.