Music Education
Offered by:
Music
Music Education is an ideal career if you have a love of music, a passion for teaching, and a desire to shape and guide young musicians. The Music Education program at SRU will prepare you to teach instrumental, vocal, and general music to students in grades K-12. Successful completion of this program will prepare you to obtain your Pennsylvania State Teacher Certification.
Why Choose Music Education?
A career as a music teacher gives you the opportunity to pursue your passion and share it with others. In the Music Education program at SRU, you'll enjoy dedicated, individual instruction and mentorship from our highly skilled faculty in a hands-on learning environment. You'll participate in at least 190 hours of real-world experiences through observation, exploration, and teaching in K-12 schools, culminating in 16 weeks of student teaching supervised by a faculty member certified in music education.
The Music Education program also offers opportunities to develop not only your teaching skills, but also your own professional musicianship. You'll be a performer in large and small ensembles, take lessons on your chosen major instrument, and be able to explore solo and ensemble performance opportunities on and off campus.
What Will You Learn?
In SRU's Music Education program, you'll learn:
Playing and teaching techniques on all instruments, including voice, woodwinds, brass, strings, piano, guitar, and percussion
Conducting and rehearsal techniques for instrumental and choral ensembles, including bands, choirs, orchestras, jazz ensembles, and marching bands
Strategies for teaching general music to students in grades K-12
Administrative skills for all aspects of a school music program, including budgeting, scheduling, traveling with students, and programming for concerts
Foundational skills in music theory, music history, and ear-training
Basic skills in arranging, improvising, and music technology
Effective techniques for teaching diverse learners, including students with special needs and English language-learners
Strategies for teaching music in a comprehensive and standards-based program
Careers In Music Education
Graduates of the SRU Music Education program have go on to work in areas such as:
K-12 teaching in public, private, and cyber school music programs
Private studio teaching
Teaching in pre-school programs
Teaching adult learners
Conducting community bands, choirs, or orchestras
Leading summer or other community music programs
Church musician
Participation in music advocacy and leadership through organizations like the Pennsylvania Music Educators Association
Clubs & Organizations
Pennsylvania Collegiate Music Educators Association
Mu Phi Epsilon International Music Fraternity
SRU Marching Pride
Student/Alumni Spotlight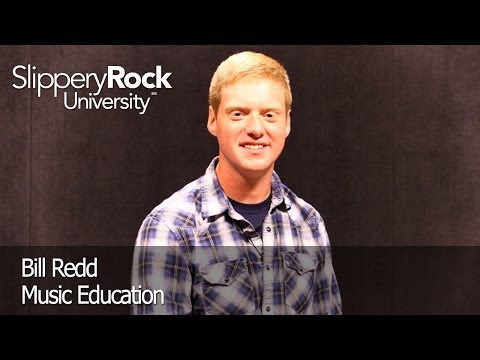 Bill Redd is a 2014 graduate of the music education program at Slippery Rock University. He talks about how his major is more of a family atmosphere and how he has received great networking experiences. He has been able to do over 300 hours of field work within his major. Bill is involved in several organizations around campus such as the SRU Marching Band and the Student Government. He has been able to travel to Italy to study culture and history.
Billy Redd