Strategic Communication and Media: Multimedia Journalism
Offered by:
Strategic Communication and Media
SRU's Converged Journalism program primarily emphasizes excellence in writing. As a Journalism student, you will learn to write well within a variety of media in order to excel in a mixed-media working environment. The Rocket, SRU's award-winning student newspaper, will provide you with hands-on journalism experience in print, online, and video media.
Why Choose Converged Journalism?
From your first day as a Journalism student, you will have an opportunity to get involved with student organizations and groups. You will learn in a small class setting that emphasizes individual learning and faculty-student collaboration. After you have some classroom experience you can practice your skills in a real-world environment as a contributor to The Rocket.
What Will You Learn?
In addition to developing a strong foundation in journalistic-style writing, you'll become proficient in new-media journalism techniques, in a converged media package that includes audio and video production as well as web design.
Careers In Journalism
When you graduate with a degree in Journalism from SRU, you will be ready to begin your career at newspapers, television studios, radio stations, or websites. Other career paths include public relations, video production, sport management, and various other communication-oriented careers.
Clubs & Organizations
The Rocket
WSRU-TV
Lambda Pi Eta
Student/Alumni Spotlight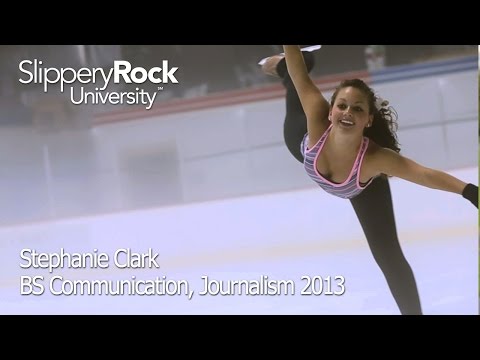 Stephanie Clark graduated from Slippery Rock University in 2013 with a Bachelors of Science in communication: journalism and a minor in sport management. She is currently employed as a skater and performer for Disney on Ice, owned by Feld Entertainment. Stephanie is satisfied with her career because she is able to live a lifelong dream, and she is able to use her degree from SRU on the road as a blogger. While at SRU, Stephanie was involved in a number of clubs and organizations, including the Cross Country team. She misses everything about SRU and if she could, she would love to come back and live her SRU experience all over again.
Stephanie Clark, Class of 2013