Minor in Film and Media Studies
Offered by:
Languages, Literatures, Culture and Writing
The Film and Media Studies minor at Slippery Rock University will introduce you to the concepts of visual storytelling and film production.
Why Choose A Minor in Film and Media Studies?
If you're interested in visual storytelling and the increasing convergences of old and new media, the English Department's Minor in Film and Media Studies offers the perfect complement to your major.
Through courses in the history of film production and the study of critical schools of analysis you will develop critical thinking and analysis skills that will be valuable in graduate school, teaching, or a career in a variety of fields.
What Will You Learn?
The Film and Media Studies minor introduces you to the aesthetics, critical discourse, histories, stylistics, and themes of narrative filmmaking in both U.S. and world cinemas.
Through the minor, you will learn how to analyze major works of cinema, discuss ways that film and media communicate, understand historical and cultural contexts, and critically interpret texts, both written and visual. You may also choose to write screenplays, television or radio copy, make short films, construct websites, or critically examine facets of the business of digital media and communications.
Careers In Film and Media Studies
The minor will help prepare you for a career in a variety of fields, including radio, television, journalism, education, and information technology.
Graduates with the minor have accepted jobs in a variety of media outlets including many in the local Pittsburgh market, such as KDKA, WPXI, Armstrong Cable, WISR (Butler, PA) and the Pittsburgh Post-Gazette.
Others have go on to further professional training at Pittsburgh Filmmakers (PA), Panavision (CA), and various special effects houses.
Clubs & Organizations
SLAB Literary Magazine
The Roxy Film Magazine
Film Club
Student/Alumni Spotlight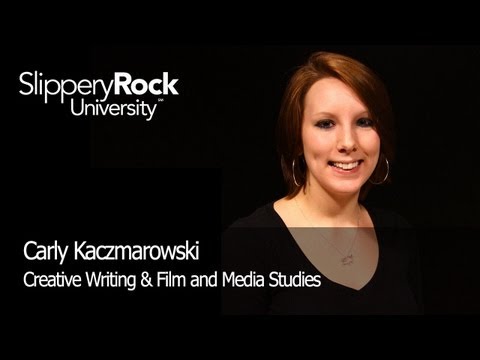 Carly Kaczmarowski, a Creative Writing alumna, talks about her choice to leave Wisconsin to come to Slippery Rock University. Carly also talks about how classes in her major helped to develop her creative thinking skills and prepared her to apply to graduate programs in screen writing. Carly has been involved in SLAB, Marching Band and many other organizations which have also helped her develop her writing and creative skills. Carly has been accepted to a screen writing program in Las Vegas and will also be doing an internship in South Africa creating a documentary on an animal.
Carly Kaczmarowski