Information Systems
Offered by:
Healthcare Administration and Information Systems
If you enjoy working with computers and excel in fast-paced business environments, you should consider a major in Information Systems. Offered by SRU's School of Business the Information Systems program covers both computer technology and business environment topics-enabling you to focus on your choice of business fields. In this program, you'll gain essential knowledge, practical experience, and programming skills.

Why Choose Information Systems?
Information Systems (IS) is an area critical to the success of many different businesses. Because so many organizations need management and support in this area, the career opportunities are almost endless.
In the IS program at SRU, you can tailor your degree to your specific area of interest:
Business
Health services
Computer security
Public safety
Web technologies
What Will You Learn?
An IS professional must understand both computer technologies and business operations. Through SRU's Information Systems program, you'll gain insight and experience in:
Programming concepts
Databases
Networking principles
Basic management
Accounting
Business topics
Careers In Information Systems
Since Information Systems are vital to many organizations today, Information Systems professionals are in high demand. As an IS professional, you'll be the bridge between the technical and management departments and personnel in a company.
Clubs & Organizations
Student Chapter of AITP (Association for IT Professionals)
Student/Alumni Spotlight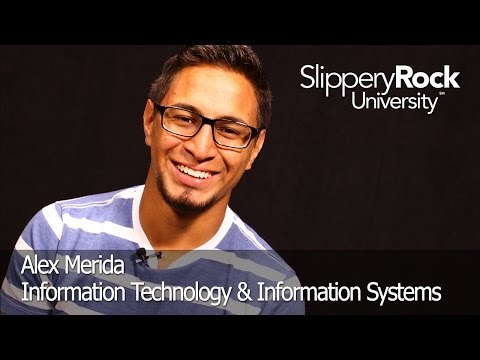 Alex Merida was a information technology and information systems dual major at Slippery Rock University. He received the Board of Governors Scholarship, which has helped him finance his education from SRU. Alex was involved in a number of ways on campus as a member of the track and field team, rock rugby, and SGA. He talks about his future plans and how SRU has put him on the right path to succeed.
Alex Merida