Information Systems
Offered by:
Information Systems and Technology Management
Offered by Slippery Rock University's School of Business, the Bachelor of Science in Information Systems degree offers key career-building skills needed to enter the growing information systems field. Through a dynamic combination of essential business knowledge, practical experience, and programming knowledge, our AACSB-accredited Information Systems major prepares students to meet the technology needs of modern business especially in healthcare or technology-related industries.
While our Information Systems program is designed to prepare students for entry-level positions in the workforce, the balanced liberal arts education at SRU will also provide the academic background students need for future graduate study.

Why major in Information Systems?
If you enjoy working with computers and would excel in fast-paced business environments, you should consider a degree in Information Systems. Because nearly every business, healthcare system, non-profit, or government agency needs technology management and support, career opportunities in information systems are almost endless, encompassing everything from databases to computer networks.
At SRU, your information systems major can be tailored to a specific area of interest through electives and a for-credit internship opportunity. We offer nine Information Systems elective areas: Business, Geographic Information Systems (GIS), Health Care Administration Management, Programming, Safety, Security, Web Technology, Digital Media, and Big Data. This elective coursework is centered on real-world applications of information systems, finishing off your major with career-ready knowledge.
What Will You Learn?
The structure of SRU's Information Studies major offers an education that encompasses both computer technologies and business operations with the objective of preparing successful IS professionals. Through our Bachelor of Science in Information Systems, you'll gain insight and experience in:
Programming concepts

Database administration

Networking principles

Basic management

Accounting and business topics
Our faculty are a dynamic mix of business professionals and academics engaged with cutting-edge research. Many of our faculty members are active leaders in the western Pennsylvania business community; connecting our Information Systems majors with local internship opportunities.
From networking events, guest speakers, and an active Student Chapter of AITP (Association for IT Professionals), the Information Systems major offers a student experience full of career preparation and experiential learning.
Careers In Information Systems
As an IS professional, you'll be the bridge between the technical and management departments and personnel in a company, a vital role that puts IS professionals in high demand. A major in Information Systems can lead to numerous career opportunities including:
Computer Systems Analyst

Information Security Specialist

Database Administrators

Computer Network Architects

Project Manager

Technology Consultant
According to the Bureau of Labor Statistics, related information systems careers are expected to see growth from 2019-2029. Most notably, database administrators are projected to have a 10% increase in the coming years. A degree in Information Systems offers transferable skills to a variety of career paths because of the major's combination of business knowledge and technical skills. With the continued growth of the digital economy and the growing importance of business analytics, students majoring in information systems should be well-prepared to enter the workforce.
In addition, the Slippery Rock School of Business has a strong alumni network, especially across Pennsylvania, which supports the careers of our Information Systems majors after graduation.
Earn your Information Systems Degree at SRU!
At Slippery Rock, our Bachelor of Science in Information Systems incorporates in-demand business skills including basic programming, business analytics, and project management. Our experiential curriculum taught by enthusiastic faculty provides a degree in Information Systems that can take your career aspirations to the next level.
Request more information today to learn more about the Information Systems major at SRU!
Slippery Rock University has a joint program with Quanzhou University of Information Engineering in Quanzhou, Fujian, China for Chinese students at QUIE. The joint program leads to the B.S. in Information Systems awarded by SRU. For more information about this program, contact abdou.jallow@sru.edu.
Student/Alumni Spotlight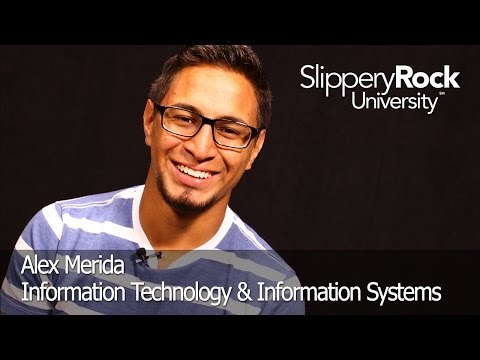 Alex Merida was a information technology and information systems dual major at Slippery Rock University. He received the Board of Governors Scholarship, which has helped him finance his education from SRU. Alex was involved in a number of ways on campus as a member of the track and field team, rock rugby, and SGA. He talks about his future plans and how SRU has put him on the right path to succeed.
Alex Merida