Environmental Education (Master of Education)
Offered by:
Biology, Parks and Conservation
The SRU Master of Education in Environmental Education program is designed to facilitate upward mobility in the field of environmental education and communication by providing students with the skills and experiences needed to excel as environmental educators in formal and informal settings.
Slippery Rock University's master's program in environmental education has been accepted for accreditation by the North American Association of Environmental Education.
SRU is now among a small number of colleges and universities in North America with NAAEE accreditation, which provides third-party, standards-based recognition of quality higher education programs that engage in the preparation and professional development of environmental educators. For accreditation to be awarded, a panel of NAAEE-trained environmental education professionals reviewed and approved a self-study audit submitted by applying institutions.
Description
This program is ideal for both working educators who possess teaching certification and desire a program of study oriented to non-formal, experiential education and working natural resource managers to effectively integrate environmental education and communication into programs serving public audiences. SRU's Master of Education in Environmental Education consists of 30 credit hours offered exclusively online.
This program helps students increase their understanding of the following:
Societal interactions with ecological systems
Learn to effectively design, implement and evaluate environmental education and communication initiatives in a variety of formal and informal settings
Make a positive contribute to natural resource conservation and management through a professional internship
Highlights
Features of this program include:
Flexibility to fit busy schedules with classes taught exclusively online
A 30-credit hour program that can be completed in two calendar years
Coursework that focuses on the theory, practice, and application of experiential, inquiry-based environmental education and communication
Courses taught by university faculty with extensive experience in environmental education, communication and social aspects of resource management
Internships can be attempted after completing at least 18 credits in the program
Accredited by the North American Association for Environmental Education https://naaee.org
Requirements
Attention: To apply for admission, please use the following link to apply now.
$25 Application Fee
Personal Statement of Personal/Professional Career Goals
Official Transcripts- Undergraduate/Graduate (Official transcripts must be sent by institution via electronic transcript e-share to

graduate.admissions@sru.edu

or via mail- faxed copies will not be considered official)
Students with undergraduate GPA 2.75 or below to be considered for conditional admissions
SRU current/Alumni/former students click

here

to order your official SRU final transcript and have it sent to

graduate.admissions@sru.edu
*If you are requesting review of your graduate transcripts for transfer of credit, please complete the transfer of credit form and submit to the Office of Graduate Admissions with official graduate transcripts. Please review SRU's transfer of credit policy.
* If you are not a resident of Pennsylvania, please check the list of most recent states approved for online classes and internships by clicking here to see if SRU is authorized to offer distance education and/or field experiences in your state of residency.
PROFESSIONAL LICENSURE CERTIFICATION:
Some states, including Pennsylvania, offer certification through the North American Association for Environmental Education (NAAEE). While certification is not required; it can advance your career. In Pennsylvania, the requirements include, but are not limited to: a passing score on the Environmental Literacy Test, work portfolio, and attendance at a EE Certification Workshop. Requirements vary by state, so please visit the NAAEE state affiliate where you are employed.
Alumni Spotlight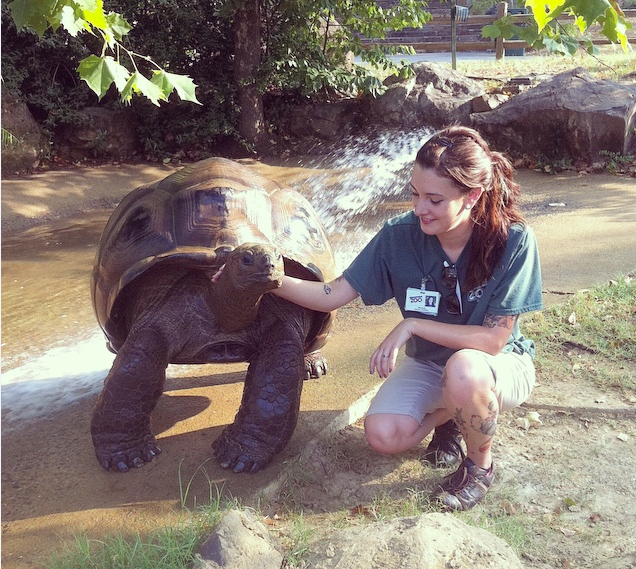 Hannah Baker currently works as the Curator of Ambassador Animals at the Little Rock Zoo in Little Rock, Arkansas. She began as an intern at the zoo in 2011, and was recently promoted to her current position. She now manages a collection of just over 170 animals in the zoo's Conservation Education department and a team of 12 staff members. The animals she gets to work with on a daily basis include reptiles, small mammals, birds of prey, a breeding colony of African Penguins, and the animals that make up the Heritage Farm exhibit. Her position allows her to make decisions about the zoo's animal care standards, breeding and transfers, collection planning, conservation work, and educational messaging.

She received her BS in Biology at the University of Central Arkansas in 2011, and will graduate from SRU this summer with an MEd in Environmental Education. She feels extremely lucky to work in a field she is passionate about, and credits her recent work promotion to her experiences as an SRU graduate student.